Centor S1 Screen and Shade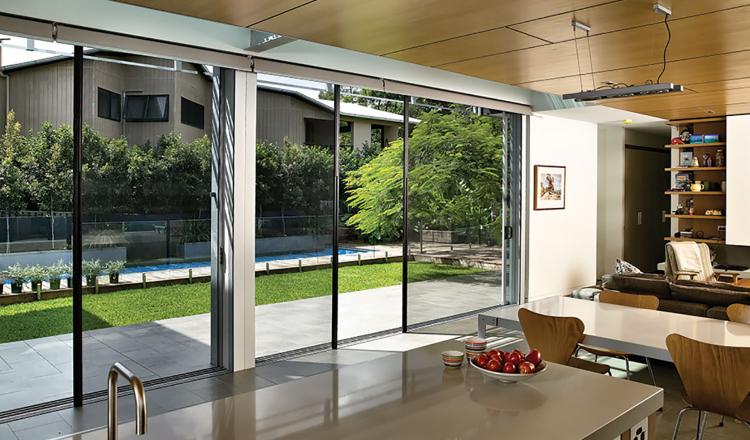 As Centor's flagship retractable screen and shade, the S1 complements large openings including folding, sliding and double-swing doors. The Centor S1 extends up to 296 1/4" (7525mm) wide and 125 5/32" (3179mm) high.
As a retractable system there are no pleats or sliding panels to impede the view. The S1 is unique as an insect screen can be paired with a shade in one frame to create a multi-function system, allowing for complete versatility.
Each S1 Screen is made-to-order in Centor's Aurora, IL facility.
Pair with doors or windows.
Available in three configurations:

Single: a screen or shade, extending from one side of the frame across the clear opening, up to 144" (3657mm) wide
Multi-function: a screen and shade, with one material type in the right frame and the other in the left, each extends across the clear opening up to 144" (3657mm) wide
Double: two screens or shades (in one material type) meeting in the middle up of a clear opening up to 288" (7315mm) wide

Cycle tested and collision tested with a 38lbs (17kg) punching bag
Operate the robust screen from any height on the stile
Once installed, the screen mechanism is accessible through the removable covers for servicing, repair or cleaning.
Aluminum frame available in four standard finishes – White, Black or Bronze paint, and Clear anodized – with custom colors and real wood veneer available.
Charcoal insect mesh made from hard-wearing polyester/PVC, available in standard weave or tight weave.
Sun filter shades made from Fiberglass/PVC are available in a range of 6 neutral colors
Backed by a 5-year warranty.
Max. frame width – single/multi-function system
152 1/4" (3867mm), Clear opening: 144" (3657mm)
Max. frame width – double screen
296 1/4" (7525mm), Clear opening: 288" (7315mm)
Max. frame height – with screen
125 5/32" (3179mm), Clear opening: 120" (3048mm)
Max. frame height – with shade
95 5/32" (2417mm), Clear opening: 90" (2286mm)