With so many patio doors on the market how do you choose which one is best for your home? Take time to consider the points below.
Image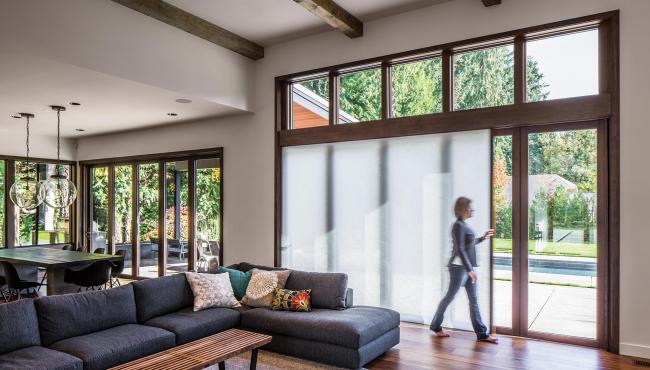 You've got the perfect view beyond your walls and all you need is the frame to enjoy it. There are many Folding, Sliding and French Doors available on the market that can provide this frame but will they allow you to live comfortably all year round? 
Until now, when installing large glazed doors, there has always been some degree of compromise. While they maximise views, provide fresh air and create a sense of space, coping with insects, harsh sunlight, loss of privacy and variable room temperatures is an unpleasant experience. 
When assessing options, consider the purpose and position of the room. Is your panoramic door overlooked by neighbours? Does your sunny south-facing room risk furnishings being fading or will it create hothouse conditions?
Insects
Whether you live close to water, fields or even in the city, you're at the mercy of mosquitoes, flies and moths. There are many types of insect screens on the market including stacking or pleated systems. Look for built-in options that fully retract and keep your views clear when not in use.
Privacy
While curtains or blinds are the traditional solution to stop people seeing into your home they have a number of downsides, including the large amount of material needed to cover wide expanses of glass. This increases cost but more importantly, the consequential bulk detracts from the clean interior lines of your architecture. 
Venetian blinds installed between the glazing can be a neater solution but are not easily maintained, have size limitations and do not always provide a total light block. The same applies to roller blinds and if your doors are in constant use, you have to raise them each time you enter or exit. Vertical blinds rarely provide a total blackout solution and their stacking position also needs consideration. 
Look for horizontal retractable options that are built into the doorframe. These are hidden when not in use so views to outside remain uninterrupted. 
Heat gain and loss
Modern double and triple glazing has done much to reduce issues with heat gain and loss though large glazed doors however door coverings are still an important consideration. Solutions like roller blinds, Roman shades or curtains do not completely seal around the frame of the doors therefore allowing heat to escape or enter.
Finally, to minimise visual distractions between you and the view consider the locks, handles and hinges, and the framing components that make up the doors. Also, if you're regularly opening and closing them you'll want a system that's durable and easy to operate.
Considering these requirements before you begin to build or renovate allows you to look at products which integrate these options within the door so you can enjoy the space for years to come. 
Award-winning Centor Integrated Doors with built-in insect screens and shades that disappear into the frame when not in use so you can enjoy inside-outside living without the compromises.