205 Integrated Folding Door receives a prestigious Gold Award in the Building & Elements division.
Image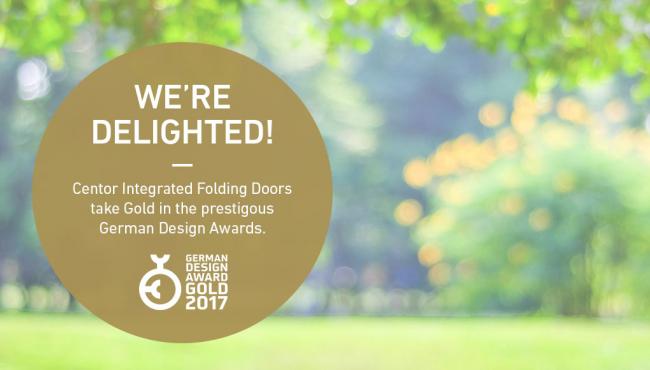 Following its internationally respected Red Dot Design Award win a year ago, Centor is celebrating again after taking Gold in the prestigious German Design Award 2017 competition.
Centor's pioneering Integrated Doors competed against 118 other entries in the Building & Elements division to be awarded a distinction for outstanding design quality and declared 'best in category'. Bestowed by the German Design Council, the German Design Award is an influential accolade that identifies and presents unique design trends. It is only open to entries nominated by the German Design Council or one of its foundation members.
An esteemed jury of 48 international experts ensures that prizes are exclusively awarded to projects that truly represent groundbreaking contributions to the international design landscape.
A total of 1,988 products were nominated for a German Design Award 2017 and the inventive features of Centor's 205 Integrated Folding Door were deemed to embody exceptional product design quality. 
Andrej Kupetz, managing director of the German Design Council, said: "The German Design Award is one of the best-known design competitions in the world. Anyone who manages to stand out against the extremely high level of competition has successfully proved themselves to be among the best."
Launched in 2013, Centor Integrated Doors enable homeowners to enjoy all the benefits of inside-outside living, without the compromises. Innovative built-in screens and shades control sunlight, insects and privacy, providing unprecedented versatility all year round. 
The seamless aesthetics of Integrated Doors result from cutting-edge design, offering contemporary styling with hinges and locks hidden from view. Thanks to Centor's cleverly engineered hardware, the doors provide an elegant user experience every time with smooth and reliable fingertip operation. 
Centor's Group Manager of Product & Engineering, David Chappell, explained: "With our Integrated Doors, we set out to challenge all aspects of what is typically known as a door today. Each element is designed to work together seamlessly, in a way that had not previously been possible in one system. Winning this Gold award for design excellence gives us the confidence to continue to strive for the best."
Nigel Spork, Centor's Managing Director, added: "As homeowners increasingly desire to connect with the world beyond their walls, I am delighted that we can provide them with a way to create inside-outside living without the compromises."
Centor will receive its Gold award at the German Design Award 2017 ceremony in Frankfurt, Germany, on 10 February 2017. Winning products will also be showcased as part of the concurrently running Ambiente 2017 trade fair in the city, which is visited by 140,000 design professionals every year. 
"As homeowners increasingly desire to connect with the world beyond their walls, I am delighted that we can provide them with a way to create inside-outside living without the compromises." Nigel Spork, Managing Director, Centor