Sliding and Folding Doors both offer numerous advantages, from design through to cost. But which is the right option for your home?
Image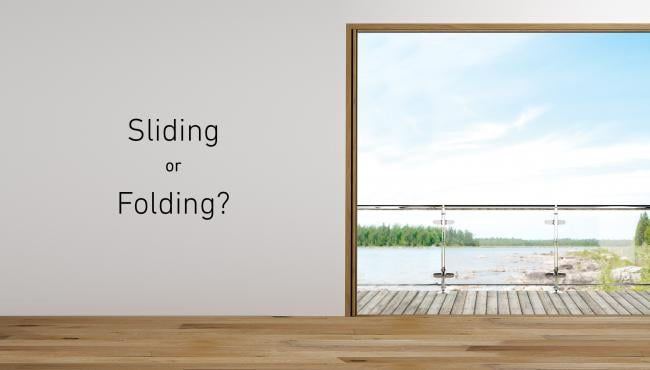 Choosing a door for your home is an important decision, as you want the investment to last a lifetime. You also want a door that works with your lifestyle, to create a home you're happy to live in. So how do you make the first big choice... sliding or folding? 
The first and possibly the most obvious difference between folding and sliding doors is price. There is a price premium for folding doors of comparable quality because of the additional hardware required to achieve the concertinaing. When opened a greater proportion of the width of the doors will be open with folding doors than with sliding doors, allowing more fresh air into your home.
Meanwhile, sliding doors provide a greater glass area when closed with fewer vertical divisions due to the ability to have wider door panels. So, which is better? Try to imagine how you will interact with the doors in your home. Imagine the room they are to be fitted into, and possibly the view beyond the doors.
Ask yourself when you are using the room, will you want the doors open to create unrestricted inside-outside living? Do you have an outdoor area you want to maximise the use of? If so, then folding doors are your best choice.
However, be sure to consider the impact on furniture around the opening, as the folding panels will need a clear area to swing open. Also, you'll need to think about the configuration of panels that works best for the opening to allow the easiest flow of traffic from inside to outside. Your window and door dealer can you help you with this. Alternatively, if you will be mostly enjoying the views from behind closed doors, then sliding doors could be the way to go. Just remember, you will only ever be able to have half the doorway open because of the fixed panel.
With Centor's Integrated Doors incorporating screens and shades into both folding and sliding options, you will always be in complete control of sunlight, insects, privacy and airflow.